EG620 Series
Polyolefin Glazing Tapes
DESCRIPTION
Gaska Tape's EG Series of products are high performance closed-cell, cross linked polyolefin foam tapes.  They are coated on both sides with a highly aggressive acrylic pressure sensitive adhesive, that adheres well to a wide variety of surfaces.  These products are available with a blue polyolefin film liner or an 84# polycoated two side, brown kraft liner.  All products have been tested according to AAMA 800-05, section 1.6, 810.1-05 Expanded Cellular Glazing Tape, Type 1, and exceed the specification requirements.  All products are available in white or black.
PERFORMANCE CHARACTERISTICS
Polyolefin foam tapes provide excellent sealing, durability and are conformable to irregular surfaces.
Closed cell structure provides sealing, cushioning, thermal insulation, deadens sounds, and eliminates excessive vibration.
Aggressive adhesive provides excellent initial tack for immediate anchorage to a wide variety of surfaces commonly used in the window assembly industry.
Products perform well over a broad temperature range and are excellent in all type of glazing applications.
ROLL SIZES
Available Thicknesses:
EG626 / EG620  .031" (.8mm)
EG426 / EG420   .063" – .125" (1.6mm, 3.2mm)
Available Widths:
.250" – 57" (6.4mm – 1448mm)
Available Lengths:
50' – 400' (15M – 122M)
TYPICAL PHYSICAL PROPERTIES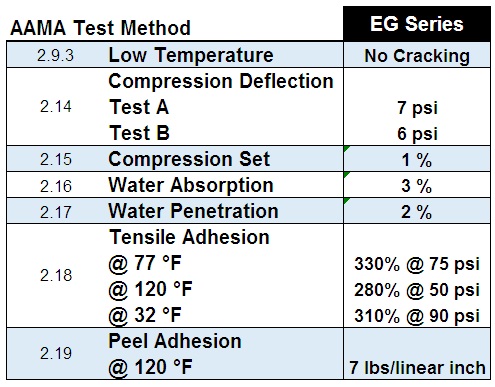 NOTES:  Typical performance properties and characteristics are based on samples tested and are not guaranteed for all samples of this product.
Data is intended as a guide only and is presented without guarantees and without assumption of liabilities resultant from the use of information provided. This data is not to be used for specification purposes.