DESCRIPTION
V612-FR consists of a closed-cell Polyvinyl Chloride foam permanently cast on heavy-duty aluminum foil. Vyn-Alum acts as an effective insulator and prevents condensation or moisture build-up on surfaces to which it is applied.
V612-FR is a special formulation that meets Building Materials Specification FHC 25/50 flame and smoke spread index (UL 723 Test Method).
PERFORMANCE CHARACTERISTICS
Formulated from durable Polyvinyl Chloride (PVC) for a long service life.

Seals out air, condensation, light and dust when compressed.

Flexes to fill in and seal irregular surfaces.

Reduces vibration and deadens sound in H.V.A.C. applications.

An excellent thermal barrier to eliminate heat transfer from pipes and ducts.

Eliminates condensation and moisture build-up on water pipes.

A standard (G1) emulsion acrylic adhesive is used and suitable for substrates that consist of low temperature applications and oily surfaces.

Gray color standard for the foam.
ROLL SIZES
Available Thicknesses:
.125" – .250" (3.2mm – 6.4mm)
Available Widths:
1.00" – 57" (25.4mm – 1448mm)
Available Lengths:
15' – 152' (4.6M – 46.3M)
TYPICAL PHYSICAL PROPERTIES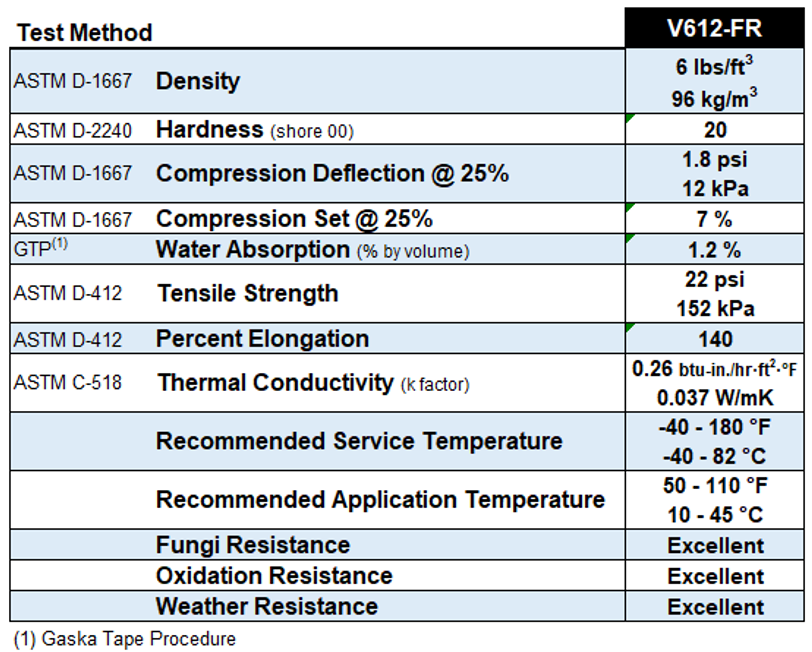 NOTES:  V612-FR, aluminum foil, foam, adhesive, the composite of these three components meets FHC 25/50. The standard thickness manufactured is .125". Up to .250" available upon request for quotation.
Typical performance properties and characteristics are based on samples tested and are not guaranteed for all samples of this product.
Data is intended as a guide only and is presented without guarantees and without assumption of liabilities resultant from the use of information provided. This data is not to be used for specification purposes.