Company Profile
1965. In the humble confines of a 2-car garage in Elkhart, Indiana, three entrepreneurs begin providing conversion services to the local market.
1976. The 11-year-old company is purchased by one of the entrepreneurs, Jack Boyd Smith, and the Smith family. Their vision is one of growth and expansion, as well as a commitment to excellence. It proves to be a solid foundation.
Today, privately owned by Jack B.Smith, Jr., Gaska Tape comprises 250,000-square-feet of manufacturing space. It is internationally recognized for innovative product development technology and production processes in the foam and adhesive industry. Jack B. Smith, Jr. directs the company as its president.
Aggressive research and development programs. State-of-the-art manufacturing and laboratory facilities. A management team that encourages innovation and vision. Every aspect of Gaska Tape is devoted to analyzing and meeting the particular needs of the customers we serve.
Learn more about:
Our Trade Organizations
GFA (Gasket Fabricators Association)
FGIA (Fenestration & Glazing Industry Alliance)
Learn About Our Commitment To Quality
ISO Certified
Customer Testimonials
I love Gaska tape. I was a young kid out of college going to work for a tape distributor, and I knew one thing. You better build relationships with your manufacturers or you will not survive. Gaska has always been there for me. They offer very good products at an affordable price. I love my new salesrep and have always felt like Gaska truly cares about me. They have never gone direct on me, and have always supported me. I hope to retire from my current distributor, and I know that I will still be selling Gaska tape, and working with my Gaska rep until my company tells me to hit the road you old geezer!
Brian O'Neal
Bron Tapes, Inc.
http://www.brontapes.com
________________________________________________________________________
When we started the business in 2004 it was with one press, no customers and no suppliers.
After acquiring some business that had Gaska Tape PVC called out on the prints the relationship with Gaska started.
This relationship has turned out to be the back bone of our business. The shipments quickly grew from a gaylord at a time to truck loads.
Today we produce millions of gaskets and seals for the Automotive, RV and Industrial markets. The support we receive from the Sales and Engineering group is superb. They have continued to go above and beyond to find solutions for new applications.
We look forward to many more years of shared success.
Guy Swank
President
Preform Sealants
http://www.preformsealants.com/about-us.html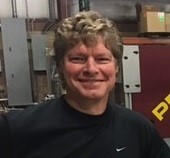 Customer Testimonials
Gaska Tape is a premier manufacturer of closed cell foams and pressure sensitive adhesive tapes in North America.  Gaska Tape has been a valued partner of Bron Tapes for over 35 years by their commitment to quality and constant pursuit of innovation.
Mike Shand, CEO
Bron Tapes, Inc.
http://www.brontapes.com
________________________________________________________________________
"GASKA Tape never disappoints as our go to source for foam tape solutions."We always turn to GASKA Tape when we need a shot of vitamin "F".
Robert Ziolkowski
Materials Manager
Argent International
https://www.argent-international.com
________________________________________________________________________
"Gaska has been a partner with Thomco Specialty Products for many years and offers a diverse selection of foam tapes.  Gaska is willing to get creative and follow-up, to find the most ideal solutions for our needs."
Kimberly Fernandez
Customer Service Manager
Thomco Specialty Products
http://www.thomco.biz
________________________________________________________________________
Bar none, Gaska Tape offers one of the quickest turnaround times with quote requests.  All requests are usually received within 24 hours.

We always receive a formal confirmation with each PO we send.  I have to both call and email most other Manufacturer's for this information that "should be" automatic.

Our Manufacturing Rep., Merridith Paul, virtually caters one on one to her accounts.  She takes time to listen to her customer's needs/wants and actually gets to know the people she deals with regularly.  This is a huge positive in today's sales world.

Rarely, if ever, do we receive questionable foam tape from Gaska.  It's obvious there is a strong Quality Control presence within their facility.

There has never been an issue asking for and receiving technical assistance.  Our Manufacturing Rep. can easily ask her R&D Team to investigate, analyze, and/or breakdown a competitive product.  This helps us determine how feasible a sales project might be.

The lead-time for the products we purchase are always one to two weeks.  Over 90% of the items we order deliver on time, if not before.
Trent Starnes
Carolina Tape And Supply Corp.
http://carolinatape.com
________________________________________________________________________
Gaska Salesperson is very timely and informative when we need information.

Gaska materials are always high quality and consistent.

Gaska Customer Service people are very responsive and easy to work with.

Gaska Lead Times tend to be either early or on-time.

Gaska Shipping Dept. is very helpful in achieving competitive shipping cost.
Shawn Dagenhardt
Carolina Tape And Supply Corp.
http://carolinatape.com
________________________________________________________________________
Our company has been ordering PVC from Gaska since July 6, 1999.  They have been competitive with pricing and excellent quality with "on time" shipments.  Their supplier scorecard has never dropped below an "A".  We have found their Sales and Technical Group to be very helpful and knowledgable.  During our ISO audit, we discovered Gaska is a well managed company.
Jenny Elswick
Purchasing Manager
Pak-Lite Inc.
http://www.pliusa.com
________________________________________________________________________
JBC Technologies has enjoyed a 20-year relationship with Gaska Tape and has been very pleased.  Gaska's core business is PVC foam, however the introduction of new products such as their Gaska High Bond and polymeric foams has helped us to stay competitive.  Technologies change all the time and the foam industry is no exception.  Support at Gaska is top notch because employees are well trained and know the market.  Someone is always available to answer questions from current orders to future products.  All in all, Gaska is a great company full of people willing to do what it takes to get the job done.  In the competitive markets that we participate in, we absolutely need suppliers like Gaska to maintain current customers and win new ones.
Mark Swanson
Sr. Account Executive
JBC Technologies, Inc.
http://www.jbc-tech.com