Gaska Tape offers full service converting capabilities with a broad range of equipment to support our customers' needs. Converting a multitude of products on continually updated equipment affords our customers the repeatability and quality they require.
Our in-house laboratory is capable of evaluating the raw materials we use in our products as well as testing the finished products to a variety of methods. We also have a prototype line of the manufacturing oven so that we can make small samples of products for development as well as customer evaluation.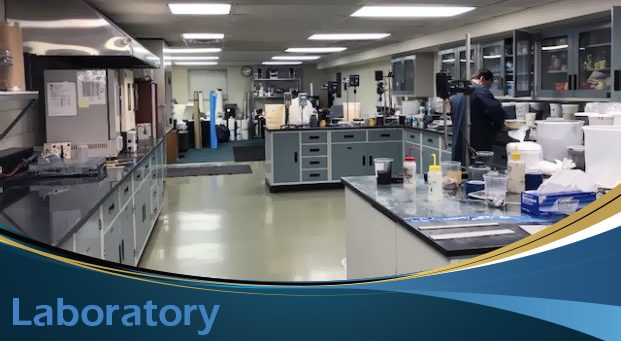 The manufacturing process begins in the mixing department where various chemicals (resins, plasticizers, blowing agents, stabilizers and fillers) are stirred together to make a batch. The batch of liquid (called "plastisol") is screened to remove large particles prior to storage in blend tanks. Our Mixing Lab tests batches of plastisol and enters results into our SPC database. Lot traceability is established at this work center.
We coat various purchased papers and films on one or both sides with a silicone which serves as a release coating for either the foam casting process or as a pressure sensitive adhesive release for downstream use. This line is additionally fitted with controls and solvent coating equipment to allow us to make high performance adhesive tapes.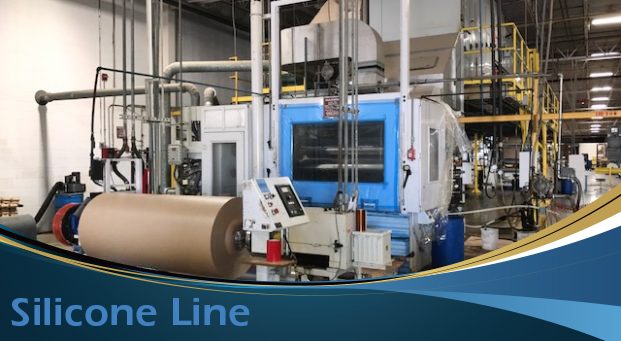 Each of our oven lines incorporates process equipment which combines several steps to run material consistently and efficiently.
· First, we accurately meter the plastisol onto the carrier web (paper or film). The ingredients have been closely monitored in the mixing process to produce a specific density (which is determined by weight and thickness cast onto the web).
· The material then enters the multistage oven, where the material is heated. As the plastisol temperature increases, it first gels (forms a cheese-like solid). Next, it fuses together to form a film. Then further heating releases gas into the product causing it to foam. Once the expansion process has completed releasing its gas, the product exits the oven in a soft marshmallow like state.
· By carefully cooling the product to room temperature, we are then able to further process the material.
· If desired, an emulsion adhesive is applied directly on top of the foam.
· We then dry and cool down again so that the finished product is ready to be wound as a complete foam tape.
We have additional coating and laminating stations to extend our manufacturing capabilities to include other configurations of foams and tape products using a variety of specialty papers, films and adhesive packages as well as multiples of our cast thickness range.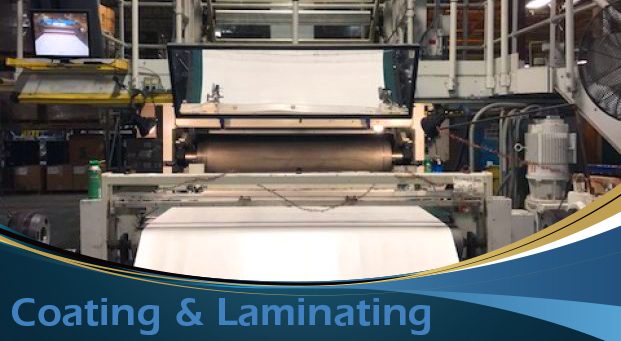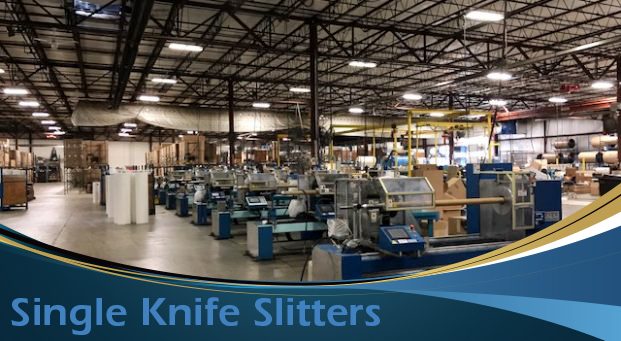 Gaska Tape utilizes multiple machines and manufacturing equipment to convert and process our closed-cell foam tapes. We have the capability to provide a wide range of foam tape products in various roll sizes. Our PLC controlled machines provide consistent, quality cut rolls in every package which allows us to offer some of the industry's fastest lead times.
Our differential rewind slitters offer custom slitting of release paper, board, films and foams. These slitters are of particular value for the materials which are more difficult to convert, especially materials without exposed adhesive. In addition, slit rolls up to 30 inches in diameter can be made for customers to maximize their production speeds on their own narrow web equipment.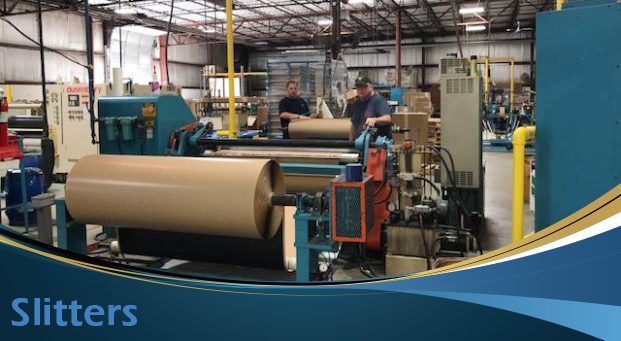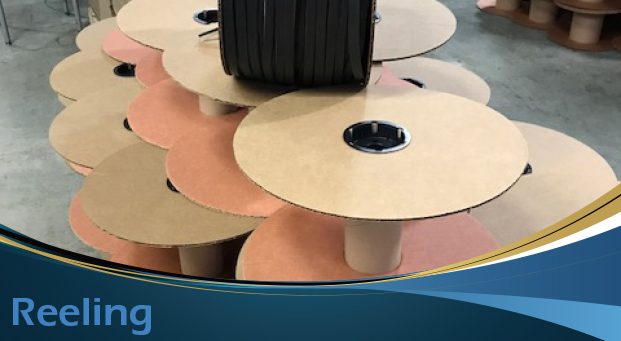 If you have a requirement for long continuous runs with minimal splicing downtime in your facility, our reeling department offers a wide variety of material, densities, widths and colors. The PLC controlled equipment produces consistent wraps on the spool with minimal stretching for the lower density materials. We offer our standard 15" spools up thru the 32" jumbo reels which support customer manual application needs as well as robotic operations.
Along with servicing customer needs by part and die design capabilities, we die cut a wide variety of materials serving multiple end users including general industrial, construction, electronics, consumer goods and RV. With the flexibility of our equipment we offer short run as well as high volume production runs.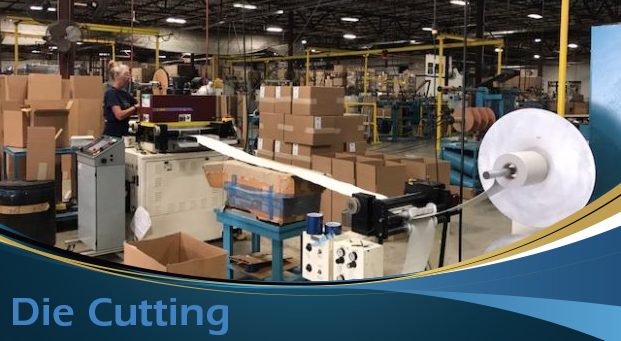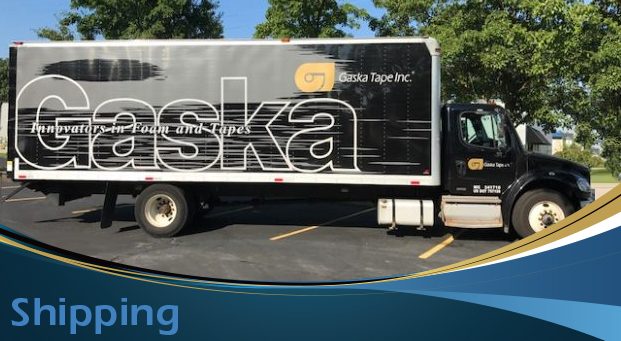 Gaska Tape strives for 100% on time shipments. We schedule carriers or ship via the customer's preferred carrier. Local delivery service is available.
CUSTOMER SUPPLIED MATERIALS
Gaska Tape is often able to process customer supplied materials using its state of the art equipment. Examples of previous value added processing include adhesive coating, laminating, slitting, spooling and die cutting of materials which customers have sent in to us.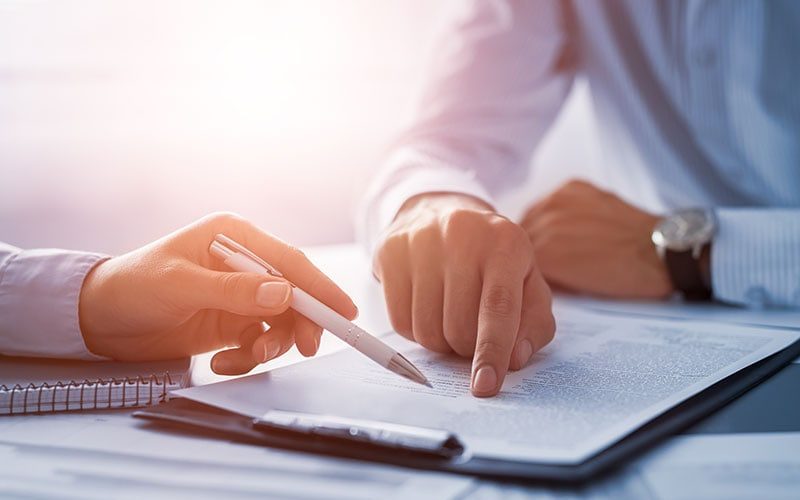 Note: Data is intended as a guide only and is presented without the guarantees and without the assumption of liabilities resultant from the use of information provided. This data is not to be used for specification purposes.
Start redefining your manufacturing standards with Gaska - Contact us today!