DESCRIPTION
Gaska Tape's C800 Series line of Cling Foam® offers a choice of materials depending upon the requirements of the application.  The C800 Series is low density closed-cell Polyvinyl Chloride foam with the unique ability to bond to non-porous surfaces without an adhesive.  It comes on a special "high gloss" paper to protect the cling surface.  Cling Foam® leaves no residue when removed.
C810 is the same low density product; coated on the opposite laminating side with a pressure sensitive adhesive.
PERFORMANCE CHARACTERISTICS
Prevents abrasion and movement of separated material.

C800 can be laminated to VK Series, Polyethylene, or Cork.

Available for die cutting when laminated.

Bonds aggressively without adhesive.

Used extensively for glass separator pads.

Economical and disposable after use.

Natural color standard.

Other colors available upon request.
ROLL SIZES
Available Thicknesses:
.063 (1.6mm)
Available Widths:
.250" – 57" (6.4mm – 1448mm)
Available Lengths:
150' – 302' (46M – 92M)
TYPICAL PHYSICAL PROPERTIES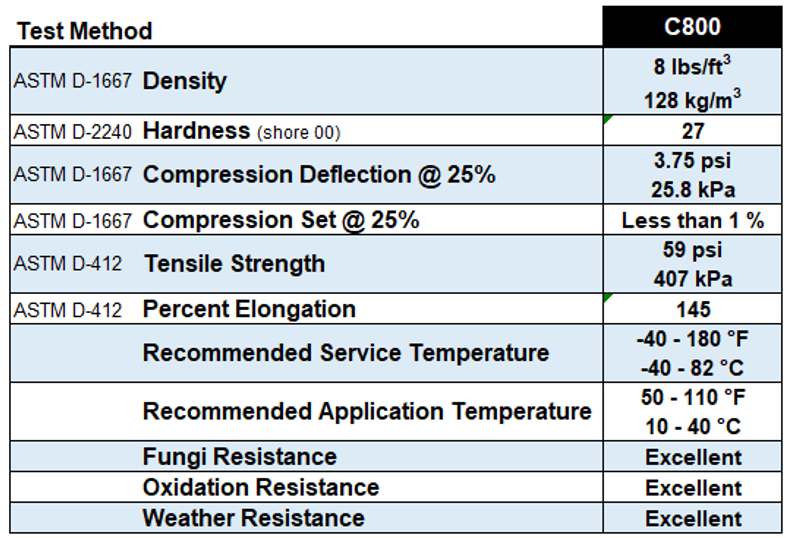 NOTES:  The length of the rolls vary depending on the thickness of the material.  Gaska Tape offers standard length logs.  Master logs are double the standard length plus 2' and available upon request for quote.
Typical performance properties and characteristics are based on samples tested and are not guaranteed for all samples of this product.
Data is intended as a guide only and is presented without guarantees and without assumption of liabilities resultant from the use of information provided. This data is not to be used for specification purposes.