Gaska Hi Bond Series
GHB6626CL
DESCRIPTION
Gaska Hi Bond Adhesive System (GHB®) consists of a solid adhesive mass high performance acrylic adhesive.  This adhesive system provides excellent long term holding power. The tape conforms to a wide variety of substrates providing a superior bond.
GHB® tapes are well suited for interior and exterior applications and in many instances can replace rivets, screws, welds and liquid adhesives.
GHB® tapes are recommended in "laminated glass" systems.
GHB® tapes will bond to most dry, clean, oil free surfaces and provide bond strengths along with dynamic shear that is significantly higher than typical pressure sensitive tapes.
PERFORMANCE CHARACTERISTICS
Designed specifically where an invisible tape is desired.

High tensile, shear and peel adhesion.

Moisture/solvent resistant with excellent weathering properties.

Shock, vibration and noise dampening.

Ease of application reduces production time and cost.

Creates permanent dust, light, air and moisture seal.

Exceptional dynamic shear properties at cold and hot temperatures.

Provides almost see through look.
ROLL SIZES
Available Thicknesses:
.020", .030", .040", .060", .100", .120" (.5mm – 3.05mm)
Available Widths:
.020" Thickness:   .250" – 17" (6.4mm – 431.80mm)
.030" Thickness:   .250" – 17" (6.4mm – 431.80mm)
.040" Thickness:   .250" – 36" (6.4mm – 914.40mm)
.060" Thickness:   .250" – 17" (6.4mm – 431.80mm)
.100" Thickness:   .250" – 17" (6.4mm – 431.80mm)
.120" Thickness:   .250" – 16" (6.4mm – 406.40mm)
Available Lengths:
.020", .030" Thickness:   216' (66M)
.040", .060", .100" Thickness:   108' (33M)
.120" Thickness:   54' (16.46M)
TYPICAL PHYSICAL PROPERTIES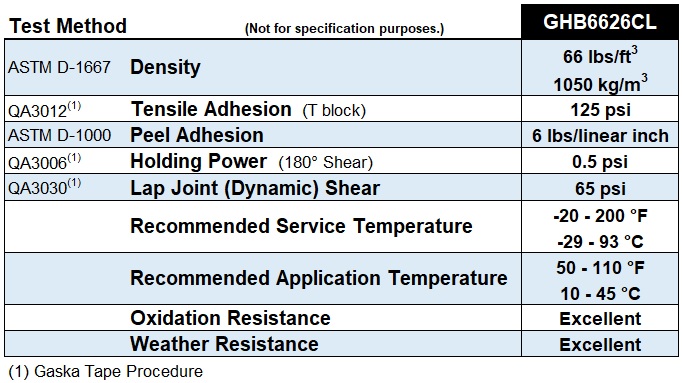 HOW TO MAKE HI BOND WORK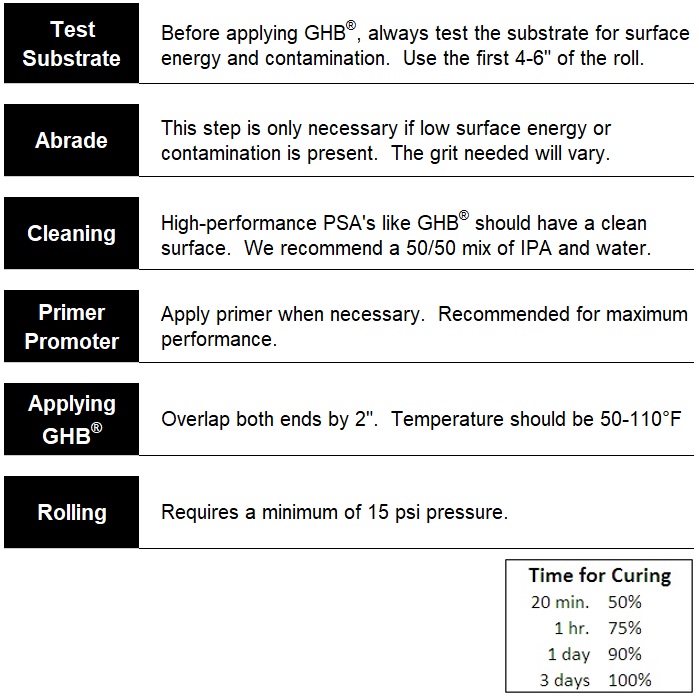 NOTES:  Substrate surfaces must be clean and dry to ensure a good bond.  The use of a primer to clean and properly prepare the surface is recommended before using the GHB6626CL product.
Suggest storage at 40°F to 100°F and 0-90% humidity.  The optimum storage conditions are 55°F to 75°F and 0-50% relative humidity.
Typical performance properties and characteristics are based on samples tested and are not guaranteed for all samples of this product.
Data is intended as a guide only and is presented without guarantees and without assumption of liabilities resultant from the use of information provided. This data is not to be used for specification purposes.