DESCRIPTION
Gaska Tape's L1000 Series is designed to meet the extreme demands of the log home industry.  Log Tite® Foam makes a permanent weather-tight seal while eliminating concern over "log float" during construction and provides an airtight seal after construction.  The L1000 Series products are medium density closed-cell Polyvinyl Chloride foam.
The L1000 Series is available as L1010 with A1, acrylic pressure sensitive adhesive.  Adhesive on one side allows for quick waste-free application.
Characteristics common to all closed-cell vinyl foam products include the ability to make a long life seal against air, moisture, light and dust penetration.  Closed-cell vinyl foam completely seals out air, moisture, light and dust when compressed 30% or more.
PERFORMANCE CHARACTERISTICS
Near 100% recovery after extended compression.

Compresses easily to allow logs to seat.

Economical.

Easily conforms to curved and irregular surfaces.

Used extensively in the log home industry.

Resists water flanking.

Brown color standard.

Other colors available upon request.
ROLL SIZES
Available Thicknesses:
.375" – .500" (9.5mm – 12.7mm)
Available Widths:
.250" – 57" (6.4mm – 1448mm)
Available Lengths:
25' – 30' (7.6M – 9.1M)
TYPICAL PHYSICAL PROPERTIES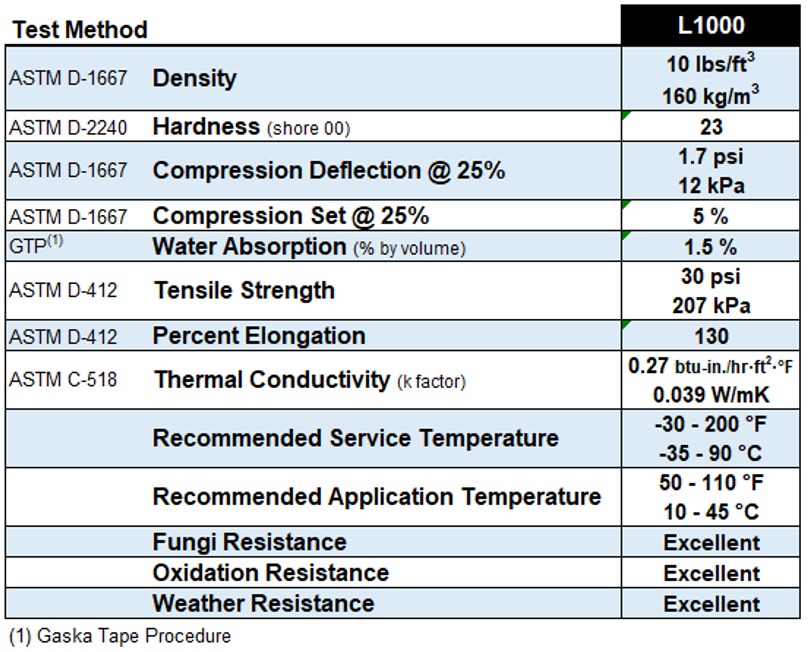 NOTES:  The length of the rolls vary depending on the thickness of the material.  Gaska Tape offers standard length logs.  Master logs are double the standard length plus 2' and are available upon request for quote.
Typical performance properties and characteristics are based on samples tested and are not guaranteed for all samples of this product.
Data is intended as a guide only and is presented without guarantees and without assumption of liabilities resultant from the use of information provided. This data is not to be used for specification purposes.