LC700 Series
Low Compression
DESCRIPTION
LC Series products are excellent alternatives to low permeability urethane where long product life is critical. This foam is excellent for use in applications requiring a low force to compress.
Gaska Tape's LC700 Series is specially formulated, soft, closed-cell Polyvinyl Chloride foam that can be produced with or without adhesive on one side as well as a permanent cast on polyester film to the opposite side.
PERFORMANCE CHARACTERISTICS
Conforms to irregular surfaces and curves.

Alternative to low perm urethane where longer product life is necessary.

High-tack (A3) adhesive has a wide service temperature range.

LC710 is cast on a 7 mil clay coated paper.

LC715 is cast on a 2 mil polyester film to provide dimensional stability, and is a self-wound product.

Used in conjunction with thin gauge plastics and sheet metal to prevent over-bowing or over-flexing.

Black color standard.

Other colors available upon request.
ROLL SIZES
Available Thicknesses:
LC710 .079" – .787" (2.0mm – 20mm)
LC715 .125" – .500" (3.2mm – 12.7mm)
Available Widths:
.250" – 57" (6.4mm – 1448mm)
Available Lengths:
25' – 30' (7.6M – 9.1M)
TYPICAL PHYSICAL PROPERTIES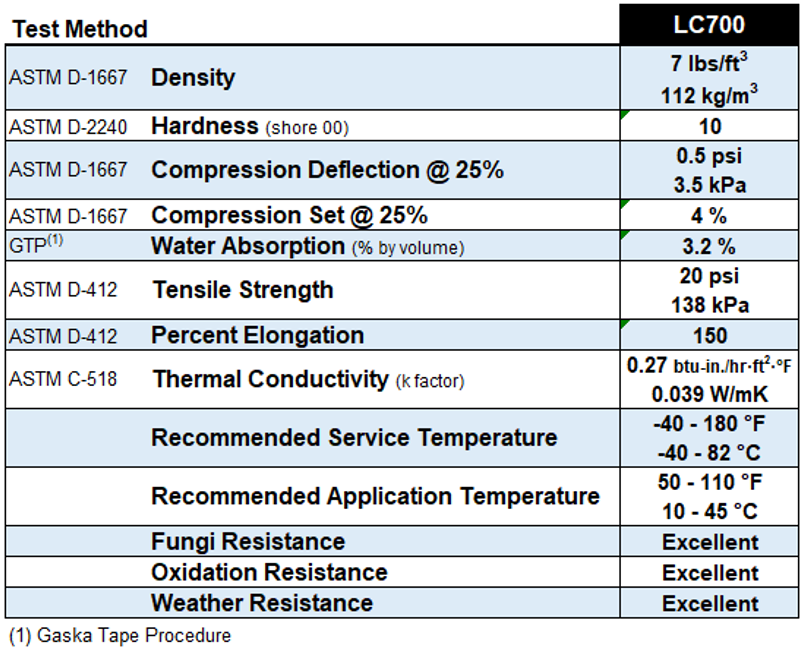 NOTES:  The length of the rolls vary depending on the thickness of the material. Gaska Tape offers standard length logs. Master logs are double the standard length plus 2' and available upon request for quote.
Typical performance properties and characteristics are based on samples tested and are not guaranteed for all samples of this product.
Data is intended as a guide only and is presented without guarantees and without assumption of liabilities resultant from the use of information provided. This data is not to be used for specification purposes.