DESCRIPTION
Gaska Tape's LD Series is a soft, low density, closed-cell PVC foam for general industrial applications.  The LD Series is ideal where cost is a critical factor.  Designed to solve your application problems, the LD Series will conform to irregular surfaces and curves.
This material is generally used to seal, cushion, insulate and dampen vibration in a variety of industrial applications.
PERFORMANCE CHARACTERISTICS
A good choice for light duty cushioning or vibration dampening applications.

Compresses easily with good recovery properties.

Offers sound attenuation reducing sound levels.

Seals out air, condensation, light and dust when compressed.

Highly flexible.

Available in black and gray.
ROLL SIZES
Available Thicknesses:
.125" – .500" (3.2mm – 12.7mm)
Available Widths:
.250" – 57" (6.4mm – 1448mm)
Available Lengths:
25' – 100' (7.6M – 31M)
TYPICAL PHYSICAL PROPERTIES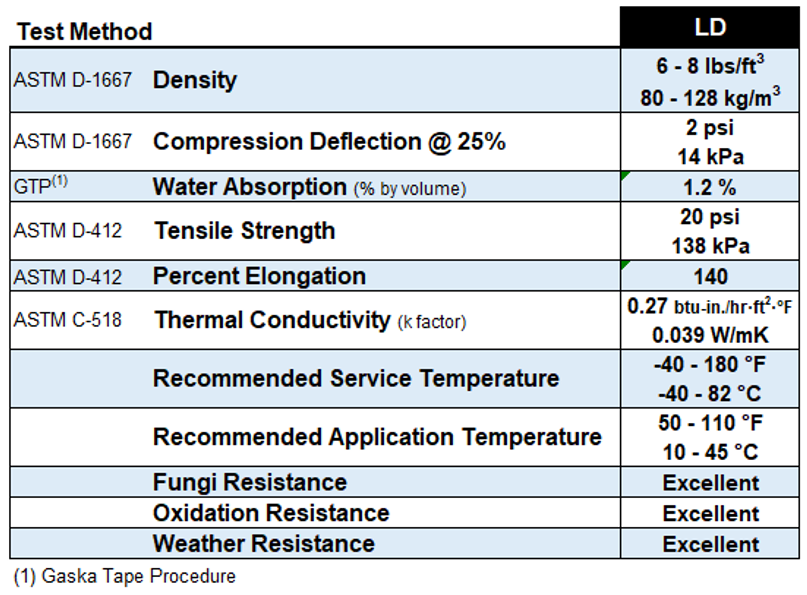 NOTES:  The length of the rolls vary depending on the thickness of the material.  Gaska Tape offers standard length logs.  Master logs are double the standard length plus 2' and available upon request for quote.
Typical performance properties and characteristics are based on samples tested and are not guaranteed for all samples of this product.
Data is intended as a guide only and is presented without guarantees and without assumption of liabilities resultant from the use of information provided. This data is not to be used for specification purposes.