DESCRIPTION
Gaska Tape's PVN Series product is a light density Polyvinyl Nitrile (PVC/NBR blends) semi-open cell foam as well as a full range of closed-cell foams.  This series can be cast on release paper liners or permanently bonded to polyester film or aluminum foil.  PVN is made in a wide range of densities with a smooth, sharp, glossy finish on one side and available with an aggressive pressure sensitive adhesive on the opposite side.
Characteristics common to all Polyvinyl Nitrile products (PVC/NBR blends) include the ability to have good resistance to chemicals, abrasion and tearing.  This product is suggested for use in applications requiring improved heat, oil and fuel resistance, as well as improved elasticity.
These materials are generally used for cushioning, insulating and vibration dampening.
PERFORMANCE CHARACTERISTICS
Absorbs shocks, cushions, deadens sound and eliminates excess vibration.

Provides an excellent buffer between contact surfaces.

PVN Series is a self-extinguishing formulation and meets FMVSS 302A.

PVN is cast on a 7 mil clay coated paper.

PVN6# complies with Ford Specification WSB-M3G102-B2 and is semi-open cell.

PVN7# complies with Chrysler Specification MS-AY516 Type 1.

Good for chemical resistance & durability.

PVN Series is available in higher density (up to 30 pcf), even more durable upon request.

Light density foam is easy to compress and conformable. It is still strong and resilient.

Black color standard.

Other colors available upon request.
ROLL SIZES
Available Thicknesses:
PVN600          .118" – .591" (3.0mm – 15.0mm)
PVN700          .079" – .591" (2.0mm – 15.0mm)
High Density   .039" – .394" (1.0mm – 10mm)
Available Widths:
.250" – 57" (6.4mm – 1448mm)
Available Lengths:
10' – 302' (3M – 92M)
TYPICAL PHYSICAL PROPERTIES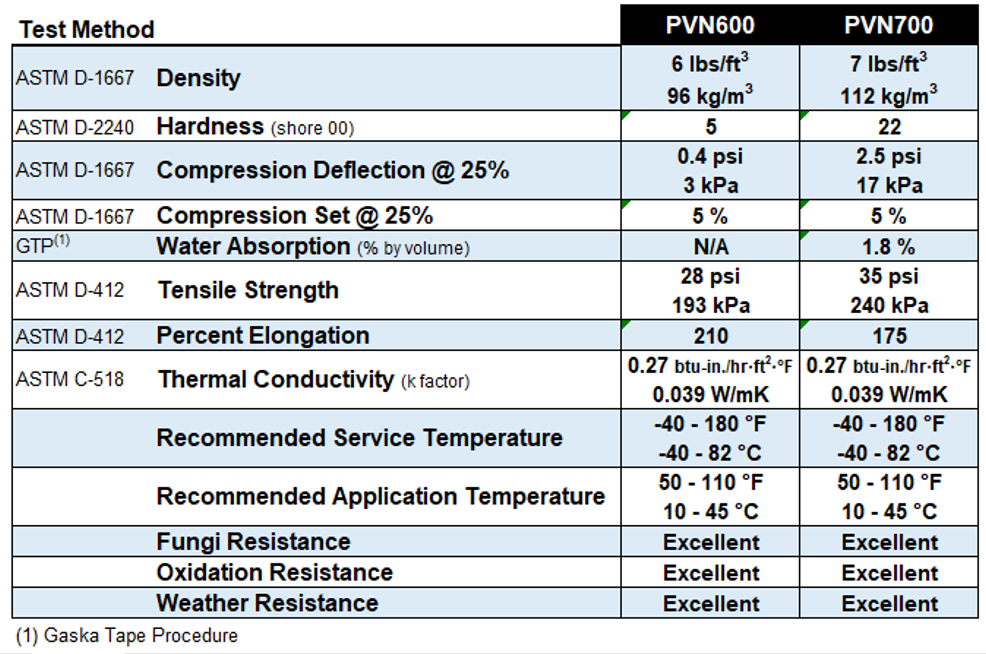 NOTES:  The length of the rolls vary depending on the thickness of the material.  Gaska Tape offers standard length logs.  Master logs are double the standard length plus 2′ and available upon request for quote.
Typical performance properties and characteristics are based on samples tested and are not guaranteed for all samples of this product.
Data is intended as a guide only and is presented without guarantees and without assumption of liabilities resultant from the use of information provided. This data is not to be used for specification purposes.