V1520 Series
Double Faced Vinyl Glazing Tape
DESCRIPTION
Gaska Tape's V1520 Series product is a medium density closed-cell Polyvinyl Chloride foam coated both sides with an aggressive, pressure sensitive adhesive, A3, and 84# polycoated two side, brown kraft liner.
V1526 is the same medium density foam; A3 adhesive coated on both sides, but incorporating a 4 mil blue polypropylene film liner.
V1526SA is coated both sides with a solvent acrylic pressure sensitive adhesive, S3, and a 4 mil blue polypropylene film liner. Gaska Tape's V1526SA has a six-month shelf life with the solvent adhesive.
Tested and approved to AAMA 810.1 expanded cellular glazing tapes.
Characteristics common to all closed-cell vinyl foam products include the ability to make a long life seal against air, moisture, light and dust penetration. Closed-cell vinyl foam completely seals out air, moisture, light and dust when compressed 30% or more.
PERFORMANCE CHARACTERISTICS
Absorbs shocks, cushions, deadens sound and eliminates excess vibration.

Excellent in glazing applications.

Insulates against temperature.

Effectively functions as a thermal break and insulator.

Maintains a seal in high movement joints.

Black color standard.

Other colors available upon request.
ROLL SIZES
Available Thicknesses:
063" – .500" (1.6mm – 12.7mm)
Available Widths:
.250" – 57" (6.4mm – 1448mm)
Available Lengths:
25' – 302' (7.6M – 92M)
TYPICAL PHYSICAL PROPERTIES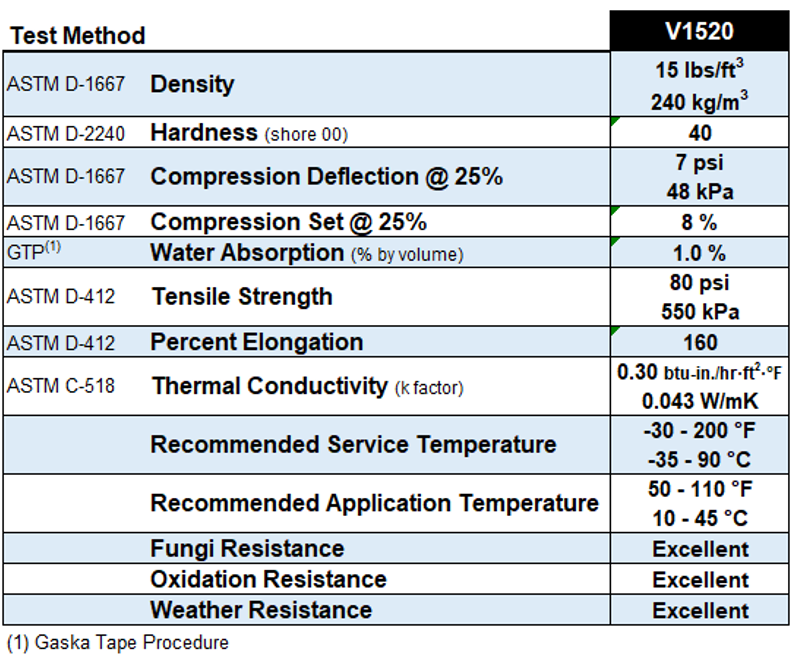 NOTES:  The length of the rolls vary depending on the thickness of the material. Gaska Tape offers standard length logs. Master logs are double the standard length plus 2′ and available upon request for quote.
Typical performance properties and characteristics are based on samples tested and are not guaranteed for all samples of this product.
Data is intended as a guide only and is presented without guarantees and without assumption of liabilities resultant from the use of information provided. This data is not to be used for specification purposes.