DESCRIPTION
Developed initially to provide an economical seal between pickup truck caps and body side rails. Today, Cap Tape® is used effectively for a variety of non-critical sealing applications, such as weather-stripping with our MW600 Series.
Gaska Tape's V600 Series can be produced with or without adhesive on one side as well as cast on a permanent polyester film to the opposite side.
PERFORMANCE CHARACTERISTICS
Formulated from durable Polyvinyl Chloride (PVC) for a long service life.

Seals out air, condensation, light and dust when compressed.

Provides cushioning, vibration dampening, and sound deadening.

V610 is cast on a removable bleached 83# white paper.

V615 is cast on a 2 mil polyester film to provide dimensional stability, and is a self-wound product.

Standard (G1) emulsion acrylic adhesive is used for light duty substrates which are clean and dry.

Gray color standard.

Other colors available upon request.
ROLL SIZES
Available Thicknesses:
.188" – .250" (4.8mm – 6.4mm)
Available Widths:
1.00" – 57" (25.4mm – 1448mm)
Available Lengths:
30' – 62' (9M – 19M)
TYPICAL PHYSICAL PROPERTIES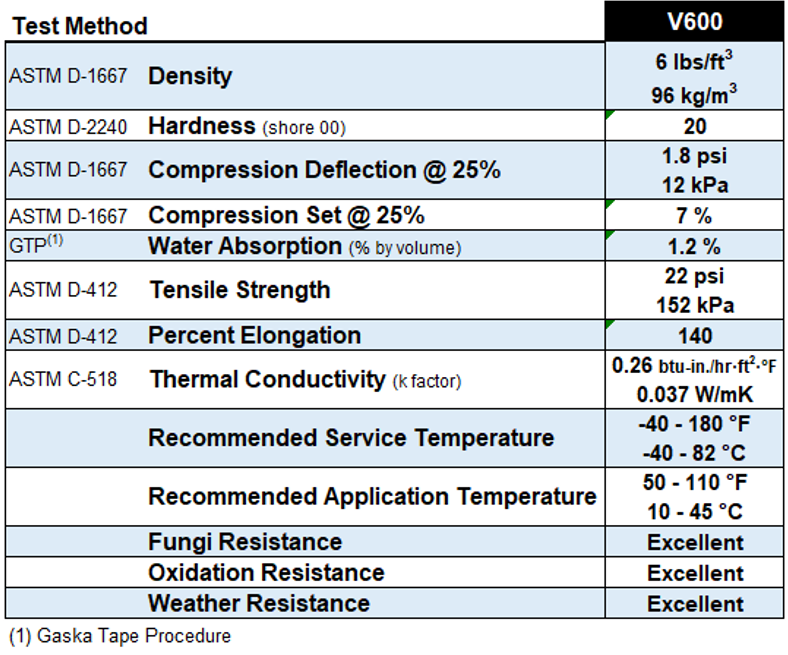 NOTES:  Available as V610, 83# white bleached paper, foam, adhesive. Also available as V615, 2mm polyester film, foam, adhesive. The standard thickness manufactured is 0.188" thick. Available up to 0.250" upon request of quotation.
Typical performance properties and characteristics are based on samples tested and are not guaranteed for all samples of this product.
Data is intended as a guide only and is presented without guarantees and without assumption of liabilities resultant from the use of information provided. This data is not to be used for specification purposes.