DESCRIPTION
Gaska Tape's V800 Series product is a light density closed-cell Polyvinyl Chloride foam.  This economical, general-purpose foam tape is manufactured for use in applications requiring positive seals on irregular surfaces or when flex and conformability to seal tight radius curves are critical considerations.
Characteristics common to all closed-cell vinyl foam products include the ability to make a long life seal against air, moisture, light and dust penetration.  Closed-cell vinyl foam completely seals out air, moisture, light and dust when compressed 30% or more.
PERFORMANCE CHARACTERISTICS
Absorbs shocks, cushions, deadens sound and eliminates excess vibration.

Provides an excellent buffer between contact surfaces.

V810 is cast on a 5 mil supercalendered kraft 83# paper.

V815 is cast on a 1.5 mil polyester film to provide dimensional stability, and is a self-wound product.

Die or kiss cutting material is available on 84# polycoated release paper or 12pt. release board.

Light density foam is easy to compress and conformable. It is still strong and resilient.

Gray color standard.

Other colors available upon request.
ROLL SIZES
Available Thicknesses:
V810   .079" – 1.00" (2.0mm – 25.4mm)
V815   .094" – .500" (2.4mm – 12.7mm)
Available Widths:
.250" – 57" (6.4mm – 1448mm)
Available Lengths:
15' – 302' (4.6M – 92M)
TYPICAL PHYSICAL PROPERTIES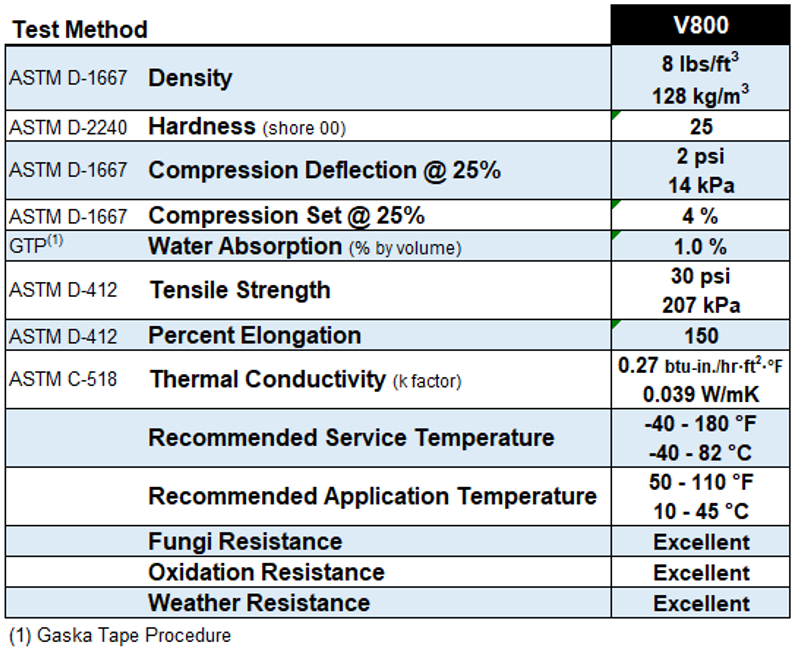 NOTES:  The length of the rolls vary depending on the thickness of the material.  Gaska Tape offers standard length logs.  Master logs are double the standard length plus 2′ and available upon request for quote.
Typical performance properties and characteristics are based on samples tested and are not guaranteed for all samples of this product.
Data is intended as a guide only and is presented without guarantees and without assumption of liabilities resultant from the use of information provided. This data is not to be used for specification purposes.