DESCRIPTION
Gaska Tape's VK Series products are available as a medium or high density closed-cell Polyvinyl Chloride foam.  Designed specifically as a "spacer in structural silicone curtain wall applications."
Both products are coated on each side with an aggressive high performance S3 solvent acrylic pressure-sensitive adhesive and covered with a 5 mil blue polypropylene film liner.
Can also be used in a wide variety of other applications that previously relied on costly high density urethane gaskets for spacing, vibration dampening or cushioning.
PERFORMANCE CHARACTERISTICS
Resilient weather seal.

Compatible with most chemical cured silicone sealants.

VK Series spacer materials have a six-month shelf life on Solvent Adhesives.

VK Series offers a good balance of peel strength (PSTC-1) at 2 lbs./linear inch and shear strength (PSTC-7) at 30 hours.

VK Series is a cost effective substitute for polyurethane foam substrates.

VK Series also offers good adhesion to stainless steel, glass, aluminum, painted metal and vinyl. It is a cost effective and viable gasket option for a variety of other industries including industrial equipment manufacturing, automotive glass/windshield and building construction.

Black color standard.

Other colors available upon request.
Click Here to download our Limited Warranties.
Click Here to download our Manufacturing Tolerances.
Click Here to learn "Why we have Storage Guidelines".
VK Spacer Tape Helpful Hint
Click here to download a PDF of our  VK Spacer Hint
ROLL SIZES
Available Thicknesses:
VK1826SA   .031" – .375" (0.8mm – 9.5mm)
VK2526SA   .031" – .250" (0.8mm – 6.4mm)
Available Widths:
.250" – 57" (6.4mm – 1448mm)
Available Lengths:
25' – 302' (7.6M – 92M)
TYPICAL PHYSICAL PROPERTIES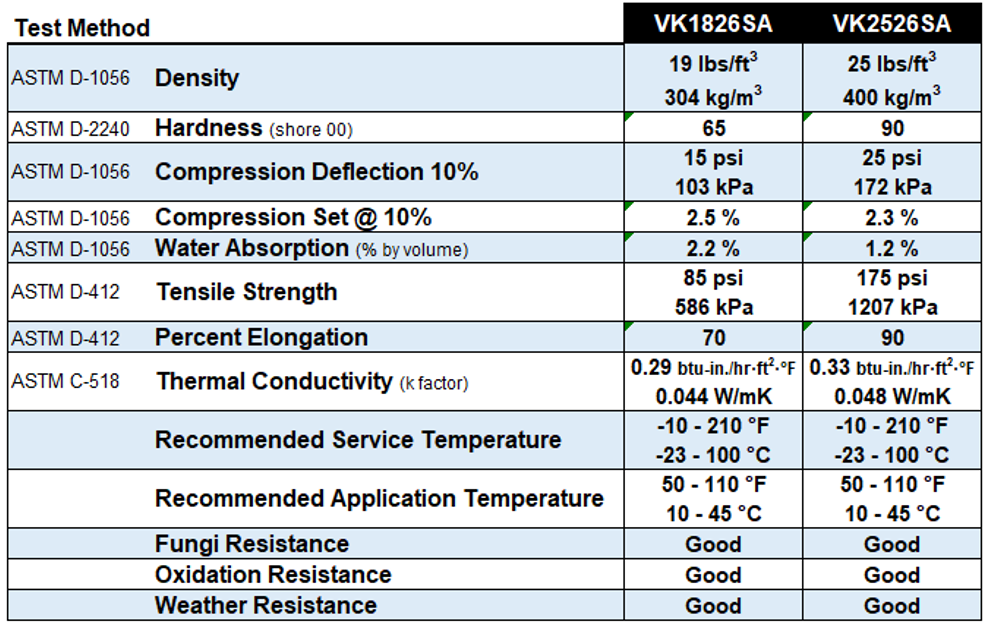 NOTES:  Gaska Tape VK Series spacer has a six-month shelf life on Solvent Adhesives.
Typical performance properties and characteristics are based on samples tested and are not guaranteed for all samples of this product.
Data is intended as a guide only and is presented without guarantees and without assumption of liabilities resultant from the use of information provided. This data is not to be used for specification purposes.